A Guide to Exploring Beautiful Malta
With my brother recently marrying into a fantastic Maltese family. We decided it made sense to visit Malta over the summer of 2019. We went into the trip expecting warm waters, fantastic odd cliff structures and a nice tan line. But what we found was so much more than that. While absorbing this homely little country of Malta, we experienced a new sense of welcoming grace. A feeling of what times used to be like, for all of the right reasons.
I hope you enjoy… A Guide to Exploring Beautiful Malta.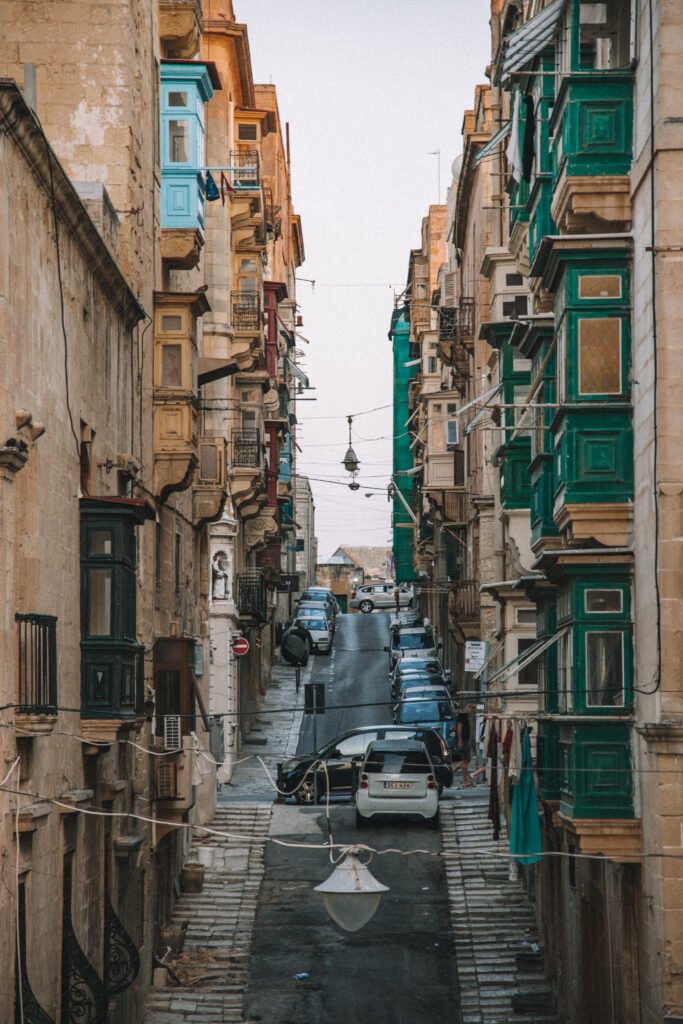 [the_ad id="1352″]
---
Blog Contents
---
About The Island of Malta
Malta is an archipelago in the Central Mediterranean consisting of three islands: Malta, Gozo and Comino. What it lacks in size, it boasts in culture and history; providing everything a backpacking adventure, family trip or luxurious getaway could need. Apart from the obvious views and sites. A big feature that you'll take away from your time in Malta, is the people. Their genuine caring nature and openness for a conversation is something that I am yet to match in any other European country. A proud and enthusiastic nation, Malta will be a place you will not regret visiting.
---
Transport in Malta
Getting around Malta was so much easier than we thought it would be. The bus system is elaborate and Google Maps is extremely accurate in advising you when and how to get around. You are also able to buy a 7 Day Bus Pass for €21. We thought this was insanely cheap as it worked on both the main island and Gozo. A one way tickets on the bus is €2. So this 7 day pass will save you a lot of money if you plan on getting around a lot. As the buses have to go through villages not historically built for them, don't get too worried when your bus is 10 minutes late.
When it came to Gozo, we decided to take a more self managing option and hire a scooter. To the rescue, Hammerhead! We found this scooter rental last minute and the owner did everything to help sort us out. The bike was an absolute beauty and brand new! We highly recommend taking the adventure of Gozo on with a scooter. The views across the whole island are stunning and having the freedom to drive around at our own will was amazing. It was genuinely so much fun! If a scooter isn't for you, again, there are buses going in every direction so you'll have no issues whatsoever.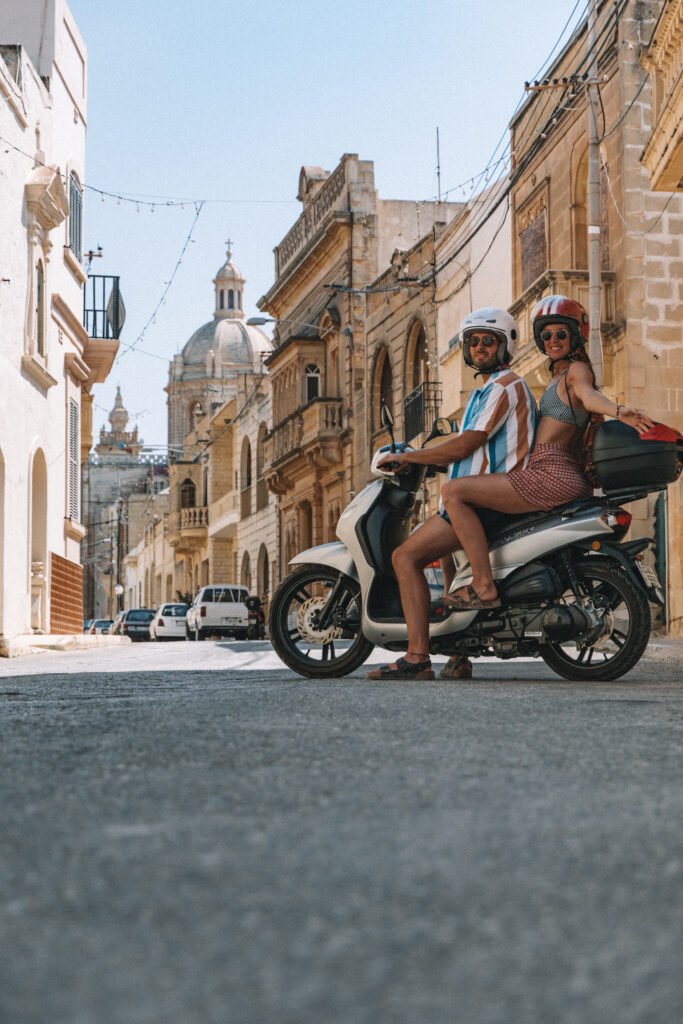 ---
Malta Itinerary
With so much packed into this small country, no matter the length of your trip, you'll never run out of potential experiences. Below is some guidance into a week's itinerary inspired by the adventure we embarked on:
Day 1 (Airport — Valletta)
With many of the flights in Malta arriving late into the evening, we stumbled into the city a bit past midnight. Despite the late arrival, getting into Valletta was a piece of cake. The airport has a taxi desk with set prices to locations all over the island. So all you have to do is line up, pay your fee, get a ticket and be shown to a car towards your destination. This actually turned out to be our first experience of the Maltese friendliness. As our cab driver was full of travel tips, historic information and had a fantastic personality. Little did we know that this was the general way of Maltese people and we were going to meet a bunch of welcoming faces over our week.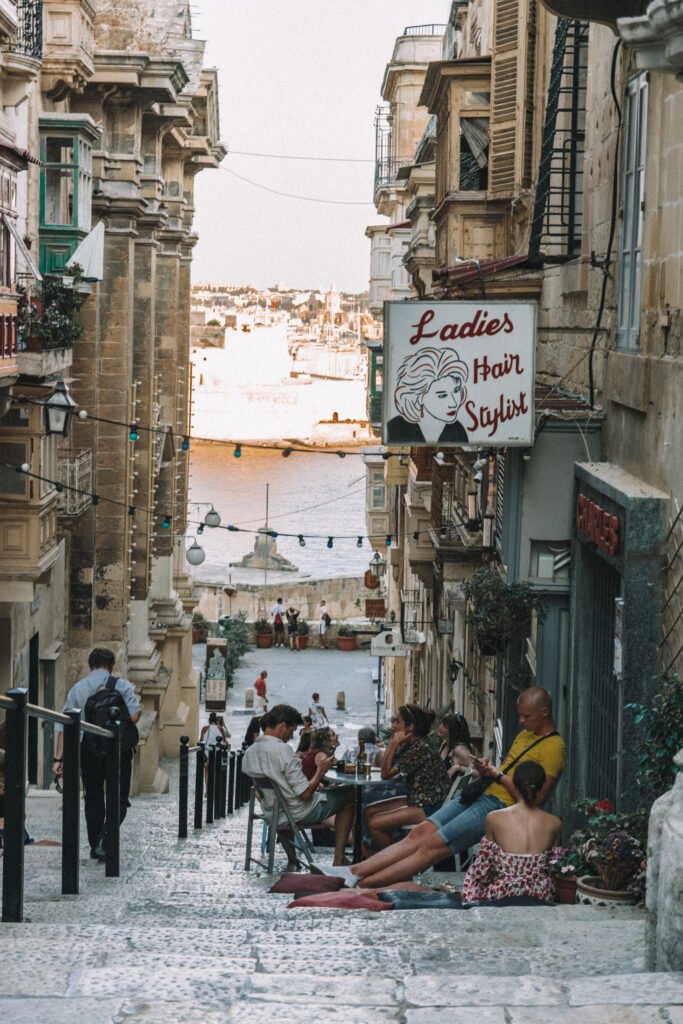 Day 2 (Valletta — St. Peter's Pool — Marsaxlokk — Valletta)
Knowing Maltese love their food, we got up in the morning and looked for something quick before we went exploring. We came across this fantastic little salad and pasta bar. The portions were HUGE in true Maltese fashion, the price was cheap and the food was excellent. Available as a convenient little takeaway, we would 100% recommend checking out 'No. 43'. After filling our bellies we walked to the station and caught a bus heading towards Marsaxlokk. Getting off just out of town, we set out on foot towards St. Peter's Pool. After a 20 minute walk in the scolding heat, we reached the marvellous natural pool surrounded by pearl white rocks. With this being a hot spot of Malta, it was incredibly busy. However, we found our own piece of rock by the water and enjoyed the scenery. With one of the highlights of this place being a big drop off into a natural round shaped pool, we spent hours watching locals and tourists complete spectacular aerial performances as they plunged down into the water below. Having gained the confidence of watching others, it was our turn to dive in!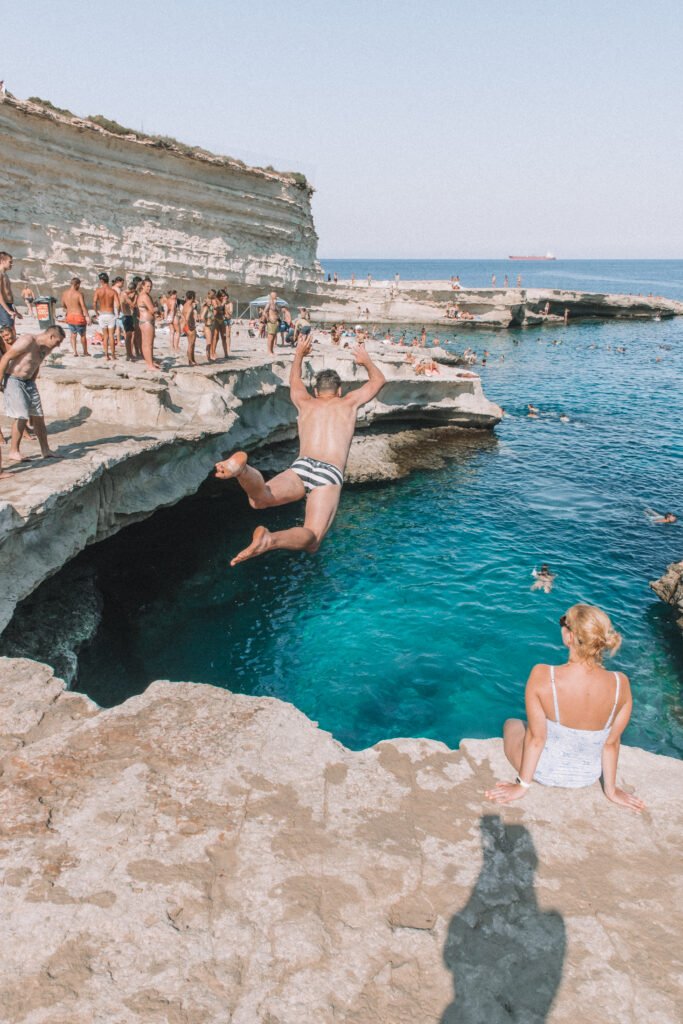 Whilst you are at St. Peter's Pool, I recommend swimming out to the furthermost rock and walking along the salt pans to have a quick look into the neighbouring bay – Il-Hofra l-Kbira. You'll find a fantastic view of the towering white cliffs while also finding some peace away from the crowds. After spending the majority of the day at the pool, we headed on into Marsaxlokk – meaning Southern Port. This cozy coastal town is the main fishing harbour of Malta, both historically and in the modern era. The harbour is lined with the traditional rainbow coloured Luzzu's (fishing boats). During the week you can buy fresh fish brought straight in from the boats, it doesn't get fresher than that! After enjoying the sites and walking around the town, we sat down at one of the outdoor bars and settled into an espresso martini. Holiday mode was on.
After finishing up a few cocktails, we headed back into Valletta via bus. With the long summers, we had a couple of hours to venture around the city streets before finishing on the coastal walls of Valletta to enjoy the sunset. After a big day of sun and salt, we found ourselves in a family's Italian restaurant for a delicious filling meal. I expected no different by now, but we again experienced the typical authentic friendly welcoming from the hosts and thoroughly enjoyed our evening.
After dinner, we had an evening stroll around the city to appreciate the fascinating architectural stone buildings and walls under the shade of night. The differing light provided an altering vision of the city and allowed us to appreciate the city in its calmness. We recommend visiting the entrance bridge at night to enjoy the front of the city from the lit fountain. It really gives you an appreciation of what a fascinating place this is. Despite being Europe's smallest capital city, it will leave a visual impression to match any other capital.
Day 3 (Valletta – Comino (Blue Lagoon, Cominotto & The Secret Spot)
Our main plan for the day was to get across to Gozo. So we spent the morning exploring the narrow streets and hidden corners of the walled city of Valetta. It's worth spending a few hours getting lost in the city's streets to really appreciate this place. After this, we packed up our gear and got on a bus just outside of the city's main entrance heading towards the ferry in Cirkewwa with an excitement of reaching Gozo.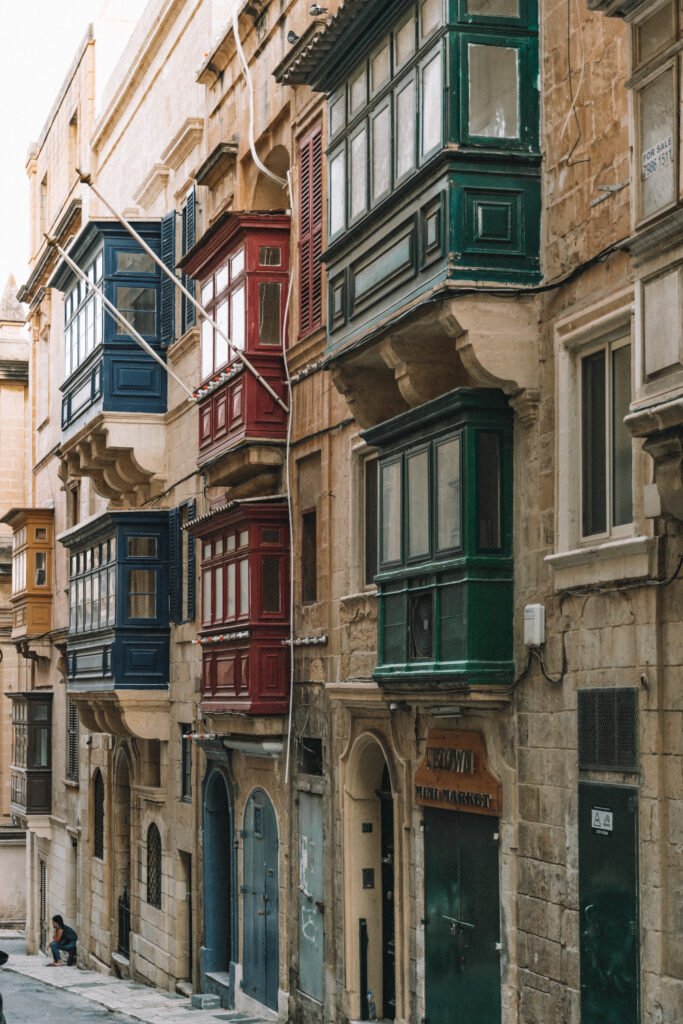 The ride to Cirkewwa is estimated at 1.5 hours but the bus travels through several small villages not built for the existing traffic. So I would allow 2 hours minimum to get there. The bus dropped us right out the front of the port where we quickly bought a ticket and scurried onto the 20 minute ferry ride across to Mgarr on Gozo. Once across the channel, we jumped on another bus towards our accomodation in Xewkija. We stayed in a gorgeous AirBNB which was an old renovated farm house (I have provided more details on this in the healthy tips section). We decided to stay quite central to the island so that we would have the ability to go in each direction as required.
After quickly meeting our host, we dropped our bags off and headed back to the port in Mgarr with the hope of getting on a boat to Comino. There were plenty of options so we jumped on one of the local boats paying €10 for a return ride to the island. The return option allowed us to come back on any of the boats up until 7.30pm. With a boat leaving every 45 minutes we were not rushed at all. The boat dropped us off right in the heart of the Blue Lagoon. With it being the biggest attraction in Malta and it being the peak of summer, the Blue Lagoon was flooded with tourists. It was certainly beautiful and there was some more tranquility when you swam across the Blue Lagoon to reach the tiny island of Cominotto. However, with the surrounding food stalls, the paid beach chairs and the loud speed boats. This place felt awfully like a tourist trap.
After taking in the sites, we decided to wander away from the crowded lagoon towards San Niklaw Bay. After a 5 minute walk following a bright red dirt track, we found a Secret Spot just West of San Niklaw Bay. Here we had the same tranquil waters and amazing scenery as just up the road, but we only had to share the water with a good 10 people. This felt more like the peaceful Malta we were looking for. We tanned, bathed and snorkelled the entire afternoon. Following the rocky edge, I even managed to snorkel into a magnificent cave just a short swim away. The afternoon was of pure peace and we got the last boat back to Gozo. With a good fill of sun, we got a local pizza and crashed in our little farm house.
[the_ad id="1355″]
Day 4 (Ramla Bay — Tal Mixta Cave — Qolla I-Bajda — Wied il-Mielah — Azure WIndow — Basilica of Ta' Pinu — Xlendi Bay)
As Gozo is such a small island, we decided the best way for us to explore was by scooter. With our helmets on and the engine ready, we got on the road and headed towards our first stop, Ramla Bay. The glorious red sands welcomed us as we got our spot on the beach and enjoyed some rays.
Another reason for us visiting this beach was our knowledge that there was a huge cave with an incredible view over the beach somewhere – Tal-Mixta Cave. We ventured to the end of the beach and found a track heading up towards the hill top. Following it up, and encountering some spiny bushes on the way, we reached the entrance to the cave. At first we thought it was empty but out of the corner came a local guy with a bamboo stick. He did not say a word to us, but from our reading of the situation we assumed he was the guardian to the cave. He kept to himself so it didn't bother us as we absorbed the incredible view over Ramla Bay.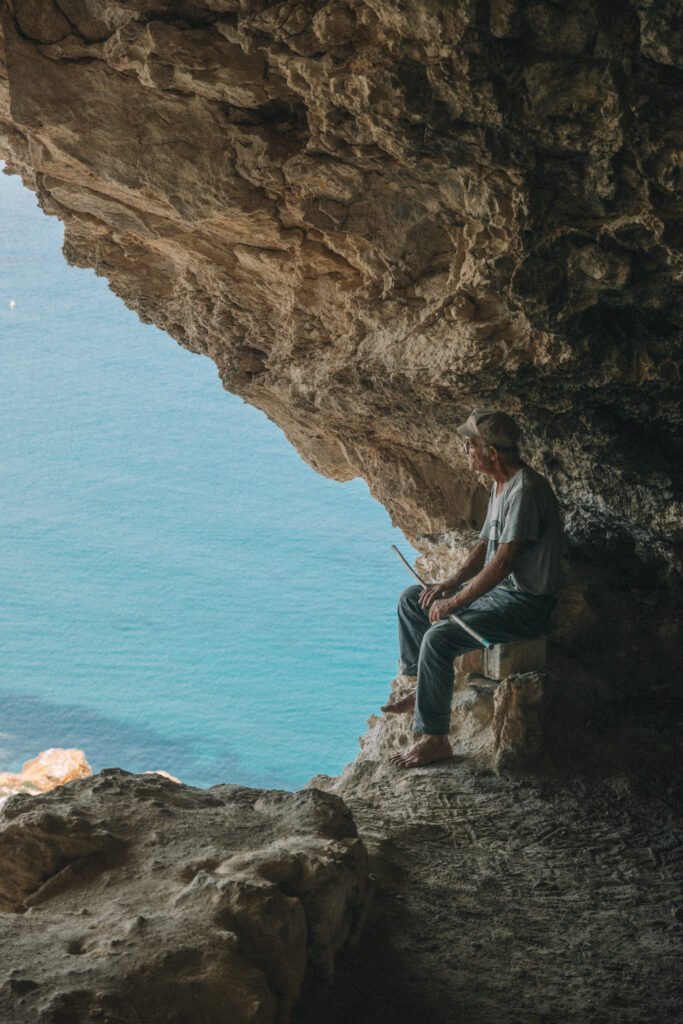 After having the cave peacefully to ourselves (other than the guardian) for 20 minutes, a big group of 10 people came out of nowhere from an access at the back. To our findings, the cave was accessible by road and not only by the trail we had thought. But the trail was more adventurous so we were happy we did it that way.
We left the cave heading back down the trail we came up on. The trail followed the coast as it got closer to the beach, so we decided to stop off at a nice location to sunbath on some ocean boulders we had all to ourselves. While here, I also took the opportunity to pop into the water for a snorkel. To my delight I was able to observe large groups of fish hanging around in the protected waters. After our swim, we headed back to Ramla Bay, got a quick lunch at the little cafe, and then got back on the scooter ready to explore again!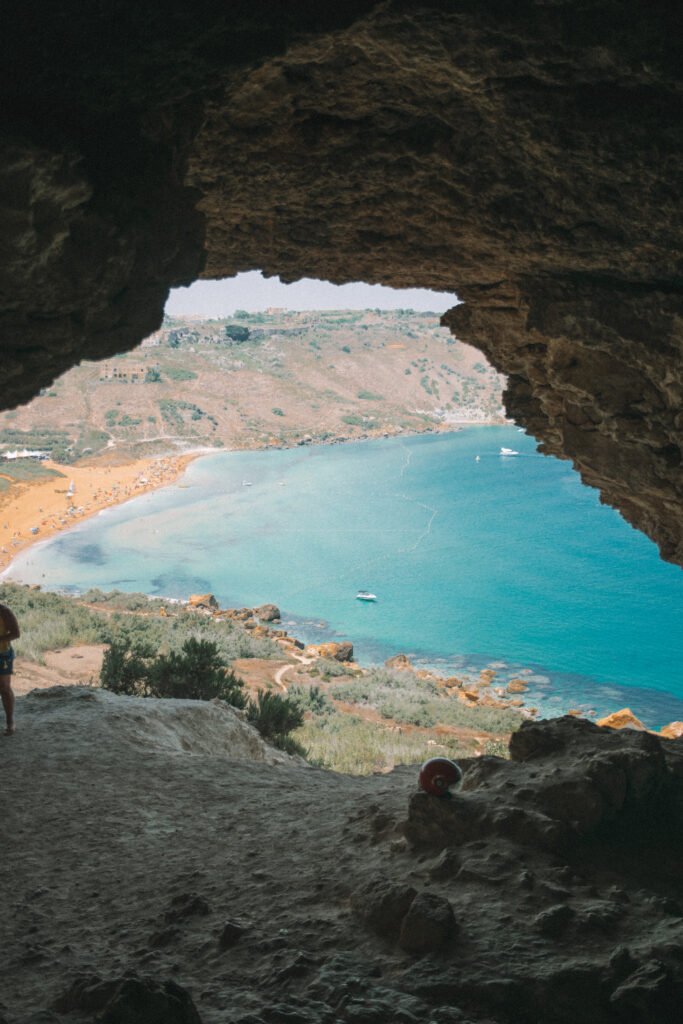 Following the coast as readily as we could we found ourselves at Qolla I-Bajda. This spot was an artillery battery built in 1715. It is surrounded by salt pans that are ever present in this Northern section of Gozo. The salt pans make for a fascinating photograph and provide another varying landscape to Malta. Continuing on from this site we found ourselves at Weir il-Ghasri, a secluded pebble beach wedged between two high cliffs. It is off the tourist trail and provides a magnificent place to bathe. The view down from the surrounding cliffs is breathtaking and it truly stood out as a natural beauty.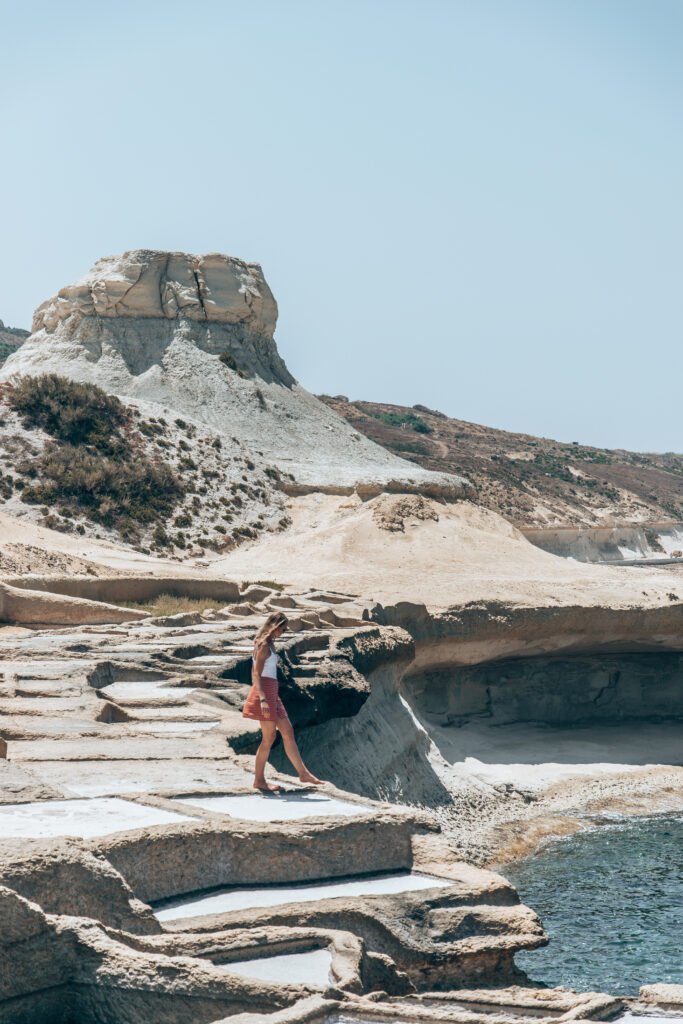 With the sun pounding down on us all day, we headed off and stopped at a small shop to get a watermelon. We decided to consume this at our next stop which was at the location of the now fallen, Azure Window. Though the famous natural structure is no longer present, this edge of the coastline is still a must see. With the surrounding towering cliffs and interesting landscape, it's a fascinating location and not one to miss. If you are missing that arched rock goodness that no longer sits at this spot, there's the Azure's little sister, Wied il-Mielah. It is located close to our previous spot at Weir il-Ghasri.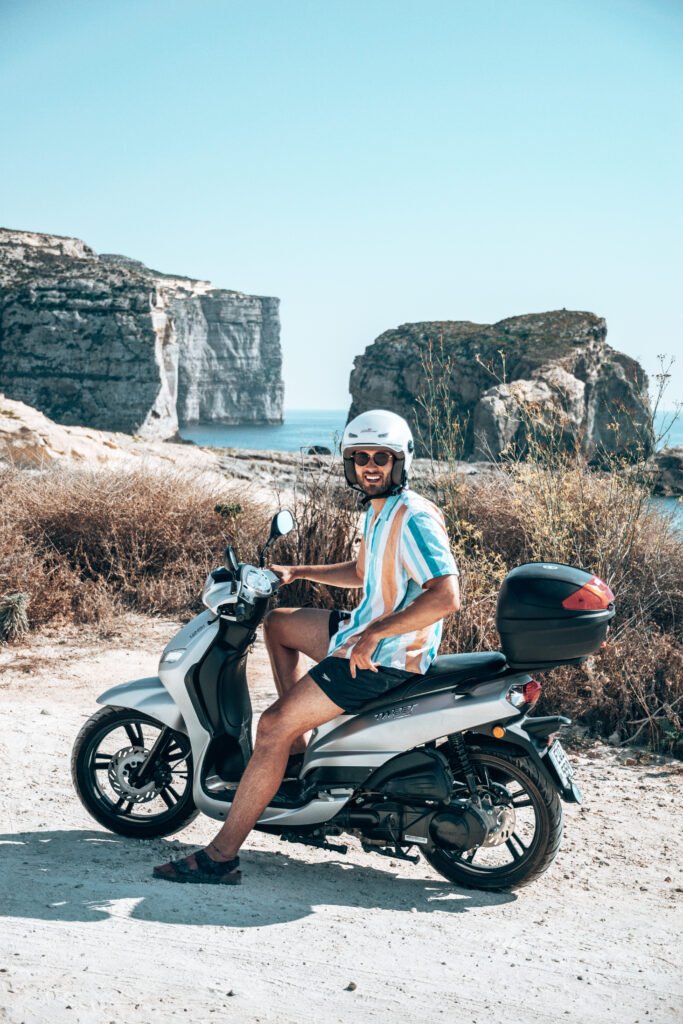 On track to our final spot of the day we stumbled across a Basilica in a location far out of all the villages – Basilica of the National Shrine of the Blessed Virgin of Ta' Pinu. The Virgin of Ta'Pinu is a religious devotion which originated on Gozo. The basilica is a gigantic structure built on a magnificent surrounding stone platform. With some fantastic statues and paintings, this was a place we were very happy to have stumbled on. This site is religiously very important to the small island and certainly worth a visit.
By this point in the day, we were losing light. So we got on the scooter and headed for our last stop of the day – Xlendi Bay. We had been recommended this place for sunset by my brother with its positioning directly towards the setting sun. We decided to get another swim in while here, so as the sky turned orange we plunged into the waters of Xlendi Grotto. It was a perfect end to an amazing day.
Day 5 (Dive Sites — Sannat (Maltese Festa))
As Malta is known for fascinating under water scenes, our intentions for the day were to scuba dive at some of the famous locations around the island. With a number of appealing sub-surface rock structures and a significant amount of wrecks, Malta is a diving mecca. Unfortunately, I had been having some issues with my ears which meant I would not have been able to equalise effectively. With safety being such a critical part of scuba diving, we unfortunately cancelled our diving plans. If you do get the chance to go diving while on Gozo. I would highly recommend the following sites – MV Karwela Wreck, Double Arch Cave, Inland Sea Tunnel and The Blue Hole. Some great details on the dive sites can be found at Spot My Dive. There is also the famous Bristol Blenheim Mark IV site near the main island of Malta. It is an old bomber plane and would be absolutely surreal to dive at.
With a day of additional free time, we had a lay in and a slow breakfast – which turned into lunch by the time we were up and about. After this we ventured briefly into Victoria, the main city of Gozo and visited the Citadella. With it being extremely hot in Malta, we quickly headed back off to a beach. With so many options on an equal distance in every direction, we got on the earliest bus to arrive and parked ourselves on a towel by the sea for the remainder of the day.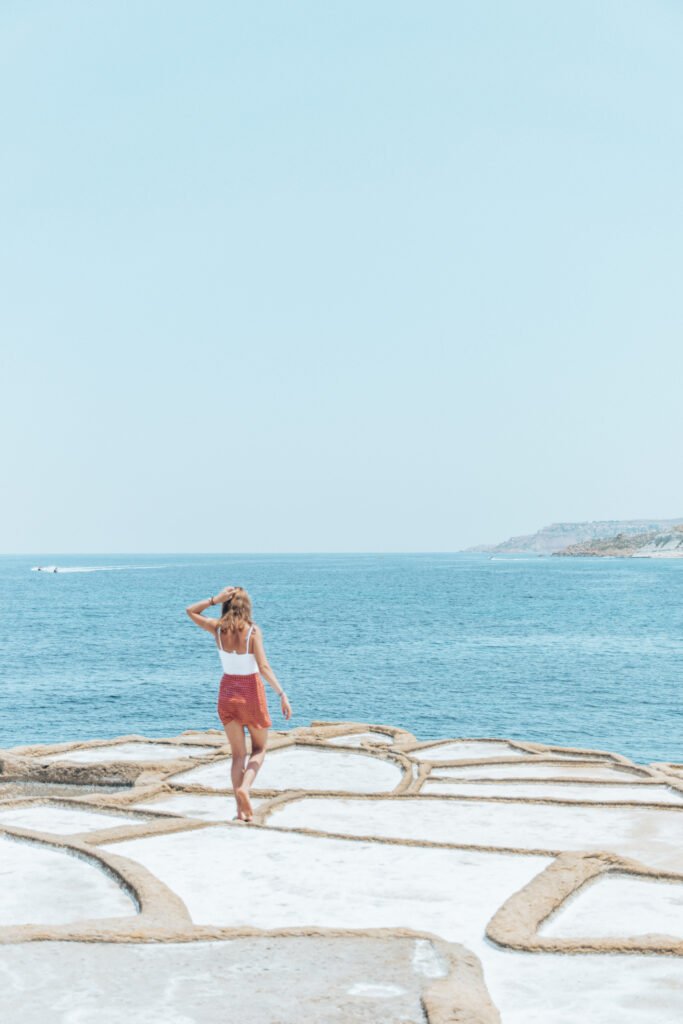 During our time in Malta, we had noticed that there were fireworks going off in different areas of the island each evening. We had not known the reasoning, but we found out during the next evening's events. That night we headed to the area of Sinnat where my sister in law's family roots lay. We anticipated meeting one of the family members in their cozy little quiet bar not far from the main square. However, on arriving, there were hundreds of people all nicely dressed up out and about on the streets. Malta is a very religious place and each village has a church which is dedicated to a different saint. During this period of the year (from May to September), each village holds a Maltese festa to celebrate their patron saint. This celebration goes on for a week and consists of marching bands, Catherine wheel celebrations and so much more. Our visit to the village of Sinnat happen to fall on the final big festa day. We were lucky to experience the fireworks, a large marching band walking through all the streets and the carrying of their patron saint. It was a fantastic experience to see this local event and feel the community pride that they held. We were touched by their authentic traditions and history.
Day 6 (Gozo — Mdina)
Our time on small Gozo had come to an end but what a great impression it had left on us. We came away refreshed and replenished with great memories. However, the trip was not over just yet. Following similar steps to how we got to Gozo, we returned to the main island of Malta heading towards a place we had high anticipation of. Mdina – also known as the "Silent City" – is a small medieval fortified city and is an architectural masterpiece. This city, perched up on a hill, used to be home to the noble families of Malta. One of the standout spots of the Mdina is the main entrance, known as the Mdina Gate or Vilhena Gate. The Baroque style gate was built in 1724 and provides a stunning example of what you'll expect to find behind the towering walls.
Walking around the city is like stepping back in time. Everything is as it was back in the day and the city itself is phenomenal on the eye. Take the time to get lost in the narrow streets and give yourself some moments to stand in awe as you gaze upon St Paul's Cathedral. If you are a Game of Thrones fan, this city was used on a number of occasions. Malta is also known for its amazing rustic doors, the city of Mdina has to be the epitome of this. You will find bright and elegant doorways in every direction you look.
An additional tip for the foodies out there. Mdina is the place to be for the best pastizzi in Malta! Which is a big deal. Outside of the walled city, not far from the main gate, you'll find a little bar called Is-Serkin Crystal Palace Bar. If you are going to have one of these fantastic flaky pastries, then have one from the local's pronounced best!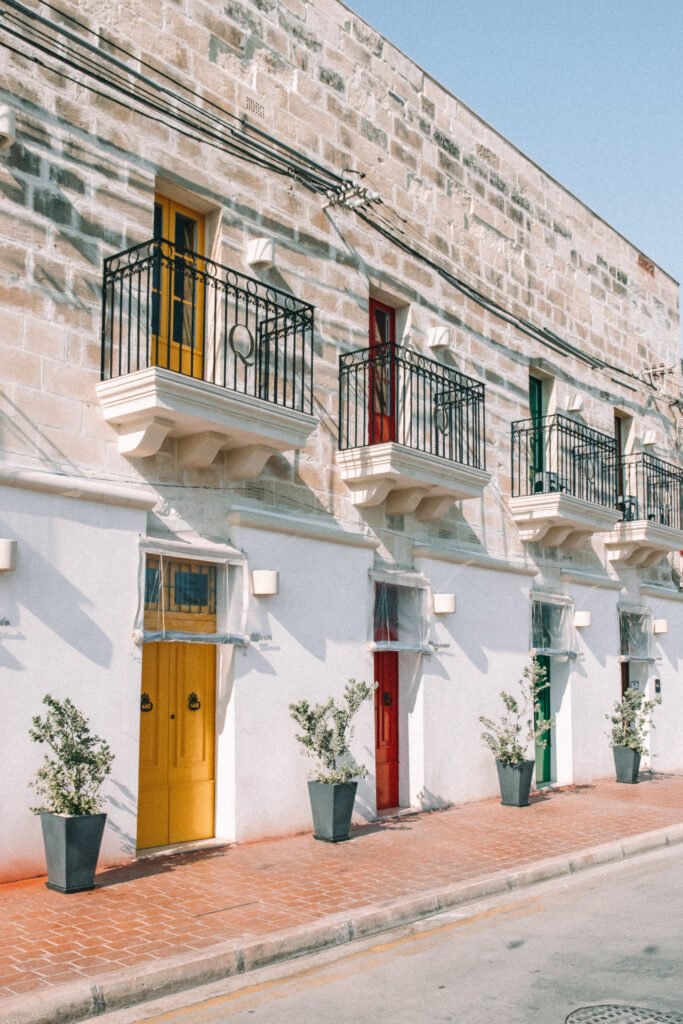 After finding a local dinner, which we recommend booking in advance if you are there on a weekend as everywhere was at capacity. We decided to treat ourselves to an evening cocktail at a bar up on the walls of Mdina. With it being our last night, this was a fantastic way to end the trip and being in the city of Mdina after the sun sets is a must! At night the city really lives up to its name of "Silent City". With most of the restaurants closed and local residents all tucked away in their homes. The city turns eerily silent and a new visual experience of the city is awakened. The peace creates an unforgettable experience and a night time walk that you won't forget anytime soon.
Day 7 (Mdina — Airport)
Our last day in Malta was laidback, the obvious breakfast choice was pastizzis as they soon would become a distant memory of convenience. With Mdina being such a visual pleasure, we decided to once again adventure through the city's walls and absorb as much of this place as we could. After this, we made our way back to our hotel, packed up our things and got on one of the local buses towards the airport. As Malta is so tiny, no matter where you are, it's not hard to get to the airport.
Our time had come to an end in Malta, but what a fantastic week we had experienced and not one we will ever be forgetting.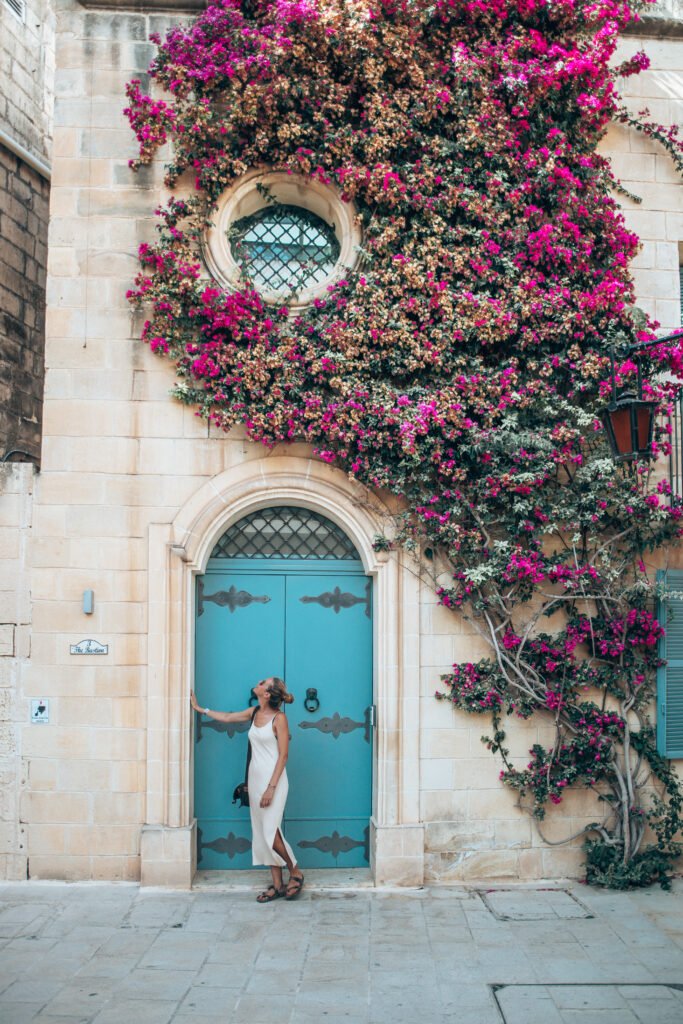 ---
Malta Hot Tips
Visit Gozo for longer than one day! A lot of people head across to the island of Gozo for one day getting the tourist bus around. This place deserves so much more time and in some way feels like what the main island of Malta would have used to be like. So if you want an authentic Maltese experience, focus your trip around Gozo.
As Gozo is small and has a lot less traffic than the main island, hiring a scooter to get around was the obvious choice for us. The buses tend to all go from the centre of Gozo so having your own transport can both save time but also give you the freedom to travel as you like. Driving through the quiet villages and along the beautiful coastlines was one of our most fond experiences as well so we highly recommend!
Across Malta, there is the opportunity to stay in newly renovated farm houses. We advise this as a must as the little homesteads are both charming and comfortable. Still showing the interior features of a farm house, they give a real rustic look while still having all the required appliances. It's a neat little bonus while visiting the little islands of Malta.
7 day bus pass for €21 which covers both the main island of Malta and Gozo.
Eat pastizzis all day, every day. They are an absolutely delight and you will miss them when you leave.
Don't forget a snorkel! With so much coastline to explore you'll be kicking yourselves if you forget one.
With the intense sun, watermelon is a must and sold everywhere! We regularly found ourselves dehydrated from the sun, so to ensure we kept our energy and hydration levels up, we grabbed a spoon and a watermelon and went to to town on it on the regular.
Check out the doors! Famous for its beautiful doors, I have no doubt you'll leave the country with a thousand pictures of doors which you didn't anticipate before the trip.
[the_ad id="1363″]
---
Our Malta Trip Video
We made a video of our trip through Malta! We hope it can inspire your trip and provide the last bit of motivation needed to book a flight. Hope you enjoyed reading our itinerary and the video to follow.
---
Thanks
Thank you for reading! If you love our blog post and want to keep up with our adventures, then come along to our Instagram.
---
If you enjoyed the blog and want to check out some more of our posts, then click here or pick from one of the blogs below.
[post_grid id="1121″]
Onto your next adventure? Try these.